To some, the new Casio G-Shock Rangeman (ref. GPR-B1000-1 / 1B) "adventure" line may look like a glorified steam engine trying to compete with sleek and glossy bullet trains. Still, offering solar-assisted GPS navigation, adequate (although not stunning) battery life, as well as a bunch of other usable (it won't bother you with incoming messages alarms, but will let you retrace your route step by step if you somehow get lost in a wilderness) functions, this gadget looks like a reliable backup for your standalone professional GPS tracker.
Overall Impression
Casio has first introduced the Rangeman GPR-B1000-1/1B in March 20018. The gadget became available in the United States and most countries of the European Union in April 2018.
I wasn't able to find any information as to the gadget's sales numbers during the first couple of weeks. Yet, I have an impression that it deserves some attention from guys -and gals- whose definition of 'active lifestyle' goes beyond a regular bike trip to a local community center. Those who are still not geeky enough to opt for something more complex featuring an Android or even iOS operating system will also like it.
Offering an easily recognizable exterior that was immortalized by previous generations of the G-Shock family in general and older iteration of the Rangeman collection in particular, the device looks more versatile and durable than an Apple Watch. Still, it is not as unisex -and sort of dull- as a timekeeper made by Suunto or Casio's archrival Garmin.
Case, Bezel & Strap
The GPR-B1000 arrives in a large composite body/ That's something to be expected from a member of the mighty family: make it smaller than it is, and you are in the same playground with dozens of other makers of "fitness watches;" Make it any larger and you can use it only as an eccentric desk clock.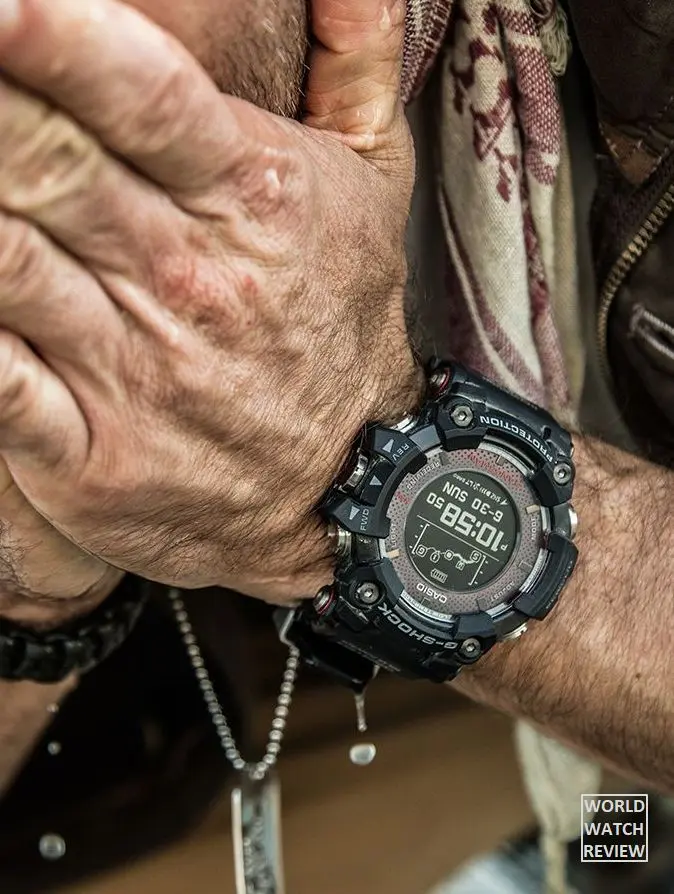 Measuring almost 58 millimeters in diameter -actually, it is more than 60 millimeters long if you include the integrated lugs- the new Rangeman adds insult to the proverbial injury by being more than 20 millimeters thick. The design looks impressive, especially when worn by a big man modeling for promotional photos. For a normal person, this ruggedized gadget may be difficult to use as a daily driver.
On the other *ahem* hand, the heroic proportions of the G-Shock collection are what many customers normally associate a "smart active lifestyle watch" with. So, the size may not be a problem if you plan to use the gadget for its primary purpose: hiking, trekking, and this sort of stuff.
The Rangeman B1000 comes equipped with wireless charging technology (a nice feature if you have a designated charging pad in your Jeep Wrangler.) The usual steel back has been replaced with a ceramic one. The new back features the usual stylized picture of a cat with a compass on one of its paws, and two added elements: a GPS satellite above and mountains in the rear hinting at the gadget's radically enhanced list of features.
Speaking of satellites, I must warn you that the GPR-B1000 is one heck of a thirsty beast: use the GPS in a "High Rate" continuous signal reception mode and it will drain the battery in just 20 hours, and even at an intermittent reception rate, which is considered "Normal" for this model, it will deplete the power in 33 hours. For a weekend hike, this doesn't look like a problem. Yet, if you plan to go on a long journey, you'd have to take care of some external source of power (perhaps, getting an extra power bank with wireless charging would be a good idea, although your back wouldn't like it much.)
As usual, Casio employs a proprietary strap design, so, when the time finally comes to get it replaced, your choice of replacement straps won't be huge (and this may become a real pain if you live in a third world country and buy the gadget closer to the end of its product life cycle: finding a replacement three or four years after the model is discontinued will be next to impossible.)
Electronics
Many consider the G-Shocks to be the Japanese answer to the idea of an "electronic Swiss knife." Their electronic modules usually power numerous (sometimes dozens of) functions ranging from a simple thermometer to a real compass and a personal electronic log with multiple entries. Recent technological advances allowed Casio to increase the number of functions with usable GPS navigation and the ability to synchronize the time with your iPhone or an Android device.
No, unlike the recent bunch of "smartwatches," the Rangeman won't show you notifications about new emails and text messages. Neither will it monitor your heart rate or play your collection of music into your wireless earbuds: the Rangeman is still mostly a watch, after all. Still, it may do a very good job at navigating a person through a particularly dense forest, a treacherous mountain path, or some other piece of wilderness that, while looking breathtakingly beautiful, can also kill you in a matter of days -or even hours- if you are not careful enough.
In this respect, the gadget's "Backtrack" function is a helpful tool to get you back to the starting point of your expedition: all you have to do is to follow the tiny arrow on the LCD screen that will show you bearing to the desired destination.
The thermometer's measuring range doesn't sound as impressive though with the lowest range limited at just -10°C (14°F,) (although, at the brand's UK site the lowest operating temperature is listed as -20°C (-4°F) and I am willing to give them the benefit of the doubt, although it still isn't particularly impressive) which makes the function not terribly useful if you happen to live in Canada or a European country with a colder climate.
As far as accuracy is concerned, you shouldn't experience any problem with timekeeping as long as there is a Bluetooth-capable smartphone that the gadget is paired to (the "time calibration" feature is available both in auto and manual modes and will be particularly handy if you plan to cross multiple time zones during your trip.)
Dial & Legibility
The monochromatic display of the GPR-B1000 looks a bit dated, but the lack of colors is partially compensated by a relatively high resolution of the screen. Also, the interface looks cool and smart with all elements easy to read even during your first day with the gadget.
Too bad that almost a third of the screen real estate is occupied by the photovoltaic panel, but that's the inevitable trade-off for the impressive combination of features that the Rangeman offers in such a compact package.
Readability suffers a bit at particularly bright sunlight, but that's a common problem for any device equipped with an LCD screen that doesn't feature "real" hour and minute hands. Casio attempted to mitigate the problem by using a high-contrast black and white (or, rather, black and transparent) color scheme without any shade of gray between them. They also covered the display with a front synthetic sapphire crystal that, as far as I understand, is treated with some sort of anti-glare coating.
Pricing & Availability
In the United States, the Rangeman GPRB1000 will bear a relatively heavy price tag of $800 (an Apple Watch "Series 3" GPS + Cellular with Nike sport band will cost you just $429,) but that's partly compensated by the gadget being made in Japan instead of usual Thailand, as well as the traditional bullet-proof reliability and unrivaled durability of the G-Shock family.
Would I buy one? Probably not, but that's mostly because my idea of a cardio workout is pedaling for an hour or so on a magnetic bike or walking for the same amount of time around the nearest park. However, if I was into hiking or trekking, this new GPR-B1000 would definitely make it into my "Another Birthday Present" shortlist.
Photos: Casio
WWR Verdict
Originality 4.5/5
Build Quality: 5/5
Usability: 4/5
Overall Legibility: 4/5
Nighttime Legibility: 5/5
Value for Money: 4.5/5
Overall Rating: 4.5/5
Casio G-Shock Rangeman GPR-B1000-1 / 1B specification
Price: $800 (Retail)
Power: Solar + Wireless Charging
Movement: Casio electronic unit with Triple Sensor technology (compass bearing, atmospheric pressure/altitude, and temperature)
Power Reserve: 33 hours with intermittent GPS reception, 20 hours with continuous GPS reception; Up to 29 months without GPS and power-saving function engaged after being fully charged
Functions:
GPS Navigation with activity logs
Point Memory (up to 60 sets)
Digital compass
Barometer (260 hPa to 1,100 hPa (7.65 inHg to 32.45 inHg))
Altimeter (-700 m to 10,000 m)
Thermometer (-10°C to 60°C / 14°F to 140°F)
World Time (39 cities)
Stopwatch with "elapsed time" and "split time" modes
Countdown timer
Alarm (4 daily alarms with "snooze")
Mobile Link with One-Touch Time Adjustment
Phone Finder
Airplane Mode
Sunrise/Sunset, etc.
Case: Rubberized
Crown & Push-button: Steel
Shape: Round
Dimensions: 60.30 mm x 57.70 mm
Case height: 20.20 mm
Lug width: N/A (proprietary strap attachment system)
Dial: High-resolution LCD, monochrome; LED backlighting
Numerals: Arabic (secondary military-style scale)
Water resistance: 200 meters
Strap: Textured rubber with carbon fiber inserts
Crystal: Sapphire
Back: Solid 2.3 mm ceramic, engraved