The new Jaeger-LeCoultre Master Control 1833 Ultra Thin has a good chance of biting a healthy chunk of flesh off a market of deceptively simple while extremely elegant luxury timepieces, which is currently dominated by Patek Philippe's Calatrava family. With its remarkably clean design, which is both pleasant to look at and easy to read, the new dress watch has a good chance of becoming as desirable and highly sought after as the legendary Reverso line.
The Background
The 2008 collection commemorates the 175th anniversary of the Manufacture that was established back in 1833 (hence the name) by a certain Antoine LeCoultre. In fact, the new family comprises whole four exceptional models, namely a Master Minute Repeater, an Eight Days Perpetual SQ, a gorgeous Grand Tourbillon, and this deceptively unassuming Master Control Ultra Thin.
Each model demonstrates the brand's excellence in all specialties of high horology in its own way. This one, as the name implies, shows their prowess when it comes to creating models almost as thin as a couple of coins stacked together.
With their cases made of rose gold (there are also more modest-looking versions in white gold), all four timepieces look absolutely stunning and deserve their share of attention.
Nevertheless, I was particularly interested in the Jaeger-LeCoultre Master Control 1833 Ultra Thin collection.
Overall Impression
I have already delivered so many compliments on the model that you probably start getting the idea that I really like this new model.
It is designed faithfully adhering to the standards of dress timekeepers that were set back in the fifties. Compared to the recent bunch of watches designed to blatantly show off its owner's wealth and social status both with size and level of exterior decor, this beautiful device comes in a compact case with a laconic design.
While deceptively simple and modest, all of its parts –the polished hands, the paper-thin body, the beautifully styled Arabic numerals, and their traditional triangular hour markers– complement each other in such a way that a gorgeously simple beauty emerges out of a dark ocean of momentary trends and flashy, yet tasteless designs hyped by aspiring parvenus.
Case
Crafted from 18-karat rose gold alloy, the new 1833 Ultra Thin features a compact body that is even smaller than your normal dressy time-measuring accessory. Only 38 millimeters in diameter, it is just over 3 millimeters thick!
The top to bottom size not only makes this little beauty extremely comfortable but also gives you a lot of bragging rights: there are not so many pieces of this sort in free circulation.
Perhaps, the only thing bad about it is that you basically won't feel it on your wrist and there is always a good chance that you either find yourself in the shower wearing this thing (which is NOT good for a piece with a guaranteed water-resistance of just 30 meters) or tinkering inside your vintage Aston Martin's V8 (not good either since gold is easy to scratch), so, before buying this model, you would probably need to practice some oriental techniques designed to increase your self-awareness level.
Although the case is small, the dial opening is relatively large thanks to the thin bezel and delicately executed elements. The impression of a well-proportioned object is further reinforced with the way the lugs are shaped: they are nicely sculpted and, too, make the case feel even more comfortable on a wrist.
The winding crown is a bit too small for my taste, but that will probably depend on the shape and thickness of your thumb and index finger.
Dial
The dial is as laconic as the case. With its gold cabochon minute track and polished Dauphine hands crafted from the same rose gold alloy, the dial is extremely easy to read, although the lack of a second hand may feel you a bit uncomfortable at first. On the other hand, there is something Zen about a dial that has no date window, no minute repeater, and no chronograph counters.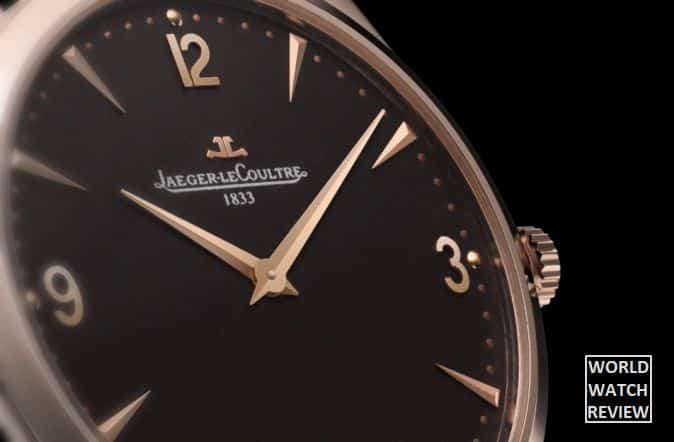 I think that even a small second hand put there to animate its chocolate brown (or sunburst-finished silver for the version in white gold) face would have probably ruined the effect created by the Swiss brand's designers.
Mechanism
Still, however simple it looks at a first glance, this masterpiece stays on par with the overcomplicated JLC Grand Tourbillon model in terms of technical features.
For example, its Jaeger-LeCoultre Caliber 849 manual wind movement is made up of 123 parts and 19 jewels somehow fitted in a tiny space of just 20.2 mm in diameter and 1.85 millimeters thick!
Being a more technologically advanced version of the well-known JLC Caliber 839 that stayed in production from 1975, the new movement also beats at a rather slow frequency of 21,600 vibrations per hour but uses an extra jewel and two more parts to do the job.
Naturally, the shape of the bridges is also slightly different.
And all this beauty is completely hand-made!
What is even more important is that this caliber is not only very thin, but it is also very reliable, as well as accurate.
And, trust me, making an accurate ultra-thin movement with its tinfoil bridges and gear trains, is not a small feat since the metal parts tend to contract and expand as they are cooled and warmed during the day. In this sense, the JLC 849 is one of the best ultra-thin movements that I know of.
Alas, this top-class Ultra Thin is limited to only 575 pieces.
See also: Montblanc TimeWalker Chronograph Automatic timepiece
Photos: Jaeger-LeCoultre
WWR preliminary verdict
Review Score: 5/5
Originality 5/5
Build quality: 5/5
Usability: 4.5/5
Overall Legibility: 4.5/5
Nighttime Legibility: 3/5
Value for money: 4.5/5
Jaeger-LeCoultre Master Control 1833 Ultra Thin specification
Price range: $12,000 (MSRP)
Movement: Caliber JLC 849, hand-wound, 123 components, Swiss Made
Jewels: 19
Frequency: 21,600 vph
Complications: Ultra-thin
Power reserve: 48 hours
Case: Rose gold
Size: 38.00 mm
Case height: 3.31 mm
Dial: Chocolate brown
Water resistance: 30 meters
Strap: Leather, hand-made
Crystal: Sapphire, antireflective on both sides