Celebrating the 100th Anniversary of the French Naval Aviation, one of the oldest and most venerable Swiss watchmaking Houses (also, the one that is currently one of the most precious jewels in the gorgeous crown worn by The Swatch Group,) has revealed its new limited-edition Breguet Type XX Aeronavale 3803ST (Ref. 3803ST/92/W6) flyback chronograph. Preserving its decisively sporty appearance, the 3803ST replaces the traditional notched bezel with a diving scale with a more traditional seconds/minutes ring but keeps the easily legible dial. Surprisingly, it is now offered in a compact stainless steel body measuring only 39 millimeters in diameter.
Of course, featuring an inevitably thick chronograph caliber of a traditional design (as you may know, their whole Type XX line currently uses as a base the good old Lemania 1350 self-winding caliber that was first introduced back in 1994 and now features an extra flyback chronograph module,) the case is also relatively thick measuring more than 14 millimeters from sapphire top to sold steel bottom. The thickness is still more or less bearable if you prefer a more casual style, but visually it looks a bit too boxy (or is it 'barrely?) with the problem slightly worsened by its massive bezel and the middle part of the steel case with their fluted design.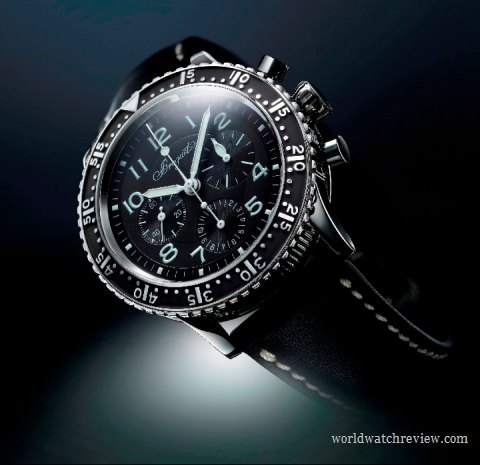 On the other hand, the Type XX Aeronavale is sporty and I am certain that this "ruggedized" styling is purely intentional (I mean, with their hundreds of years of expertise, the guys know a thing or two about the essentials of industrial design) and people that this collection is targeted at will probably love it.
Turning the rant mode on, I must admit that, frankly speaking, I do not understand this '100th Anniversary' business.
Although the French claim to be the first nation to start using planes for naval warfare, it was on November 14, 1910, almost exactly 100 years ago that the American pioneer Eugene Burton Ely successfully taken his plane off USS Birmingham and then landed it. The first documented attack of a plane on a military vessel was attempted three years later at the Battle of Lemnos by Greek pilots. Well, never mind.
The model in question is a bow to the legendary Breguet Type XX model that was introduced 52 years ago. In 1958 the French Aeranavale ordered a series of 500 flyback chronographs that were in service for around 25 years.
The model was so popular among enthusiasts and serious collectors that in 1995 Breguet offered the second generation of Type XX "3800ST" as the Breguet Aeronavale model.
The new Breguet Type XX Aeronavale 3803ST is issued in a limited series of 1000 numbered pieces and, given its relatively low (at least, for the brand,) price, will sell out fast, which will potentially increase its collectability factor and allow you to lose less cash trying to resell it if needs be.
It can easily be distinguished from the original 3800ST model thanks to a black-lacquered bidirectional rotating bezel with raised numerals and a differently shaped winding crown. The solid case-back cover is also different: besides the usual information on the model number and corporate logo, it also features an engraved emblem of the Aeronavale.
From where I sit, the original 3800ST looks more organic than this limited edition series. However, it will be of more interest to those fascinated with the history of military aviation and especially its French arm.
WWR Verdict
Originality 4.5/5
Build Quality: 5/5
Usability: 4.5/5
Overall Legibility: 4.5/5
Nighttime Legibility: 4.5/5
Value for Money: 4.5/5
Overall Rating: 4.5/5
Photos: Breguet
Breguet Type XX Aeronavale 3803ST Chronograph (REF. 3803ST/92/W6) specification
Price: €7000 (MSRP)
Movement: Breguet Caliber 581, automatic, 29.89 mm in diameter, 25 jewels, Swiss Made
Functions: Date, flyback chronograph
Power reserve: 48 hours
Case: Stainless steel
Shape: Round
Size: 39.00 mm
Case height: 14.40 mm
Dial: Black
Numerals: Arabic, luminous
Hands: Steel, aviator-style, luminous
Hour markers: Square-shaped, luminous
Water resistance: 100 meters
Strap: Hand-sewn calfskin leather with contrast stitching
Crystal: Sapphire, antireflective
Back: Solid stainless steel, engraved