---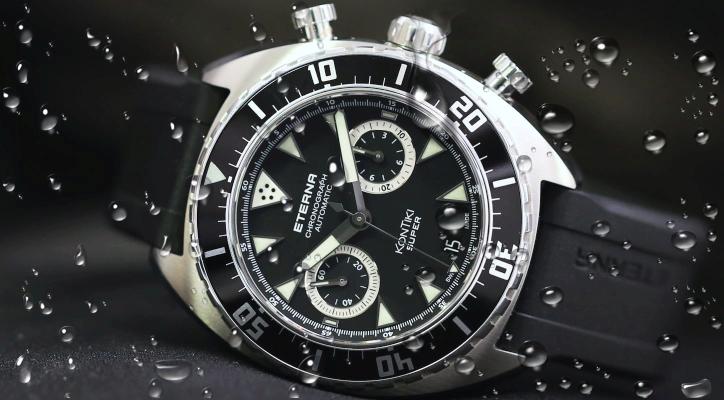 Swiss
Recently bought by a Chinese investment holding company, Eterna keeps on churning out great (while a bit overpriced) time measuring devices that also happen to be elegant accessories. Far from being "groundbreaking," their 2016 Eterna Super Kontiki Chronograph (refs. 7770.41.49.1382 & 7770.41.49.1718) collection is now available not only in the brand's numerous stores around the world but also at some online retailers albeit at very small discounts.
Overall Impression
While definitely not as stately as their Royal Manufacture line, the brand's Super Kontiki family of oversized timekeepers still makes a very strong impression, especially on those more interested in classic models of "the time past" but on a new technological level.
With their monobloc-style stainless steel cases looking like they were inspired by design language that was especially popular back in the 1970s, members of the Super Kontiki range look absolutely classic and, well, sort of timeless. While most "trendy" wristwatches of our time will probably look either ridiculous or plain boring in a couple of decades, these gorgeous models will still be relevant with their ergonomically shaped bodies and relatively easy to read dials.
Being as deliberately massive as it is, this particular gadget doesn't seem to be as versatile as similarly styled models offered during last five or six years by other -less and more expensive- brands, but that doesn't seem to be the problem since it's also clearly not positioned as a "My First Swiss Made Diver," but rather as an entry-luxury accessory for a person who already has a number of fine wristwatches in their collection and simply needs something original and interesting for certain occasions and certain types of attire.
Although the model's recommended minimum street price severely damages its "value for money" rating (I wouldn't give it more than three stars out of five in this regard,) it may still be a very good choice if you will manage to find one with good a discount or simply wait some time until it arrives at online stores with good reputation and acceptable money back policy.
Case & Strap
It seems that people at Eterna either have never heard of current "downsizing" trend or simply refuse to believe that it will last: after all, there are a lot of people who think that the oil has finally bottomed out and the demand for all things luxury (as well as conspicuous) will soon follow. Anyhow, the watch is released in a seriously oversized stainless steel case of whole 45 millimeters in diameter. Being more than 16 millimeters thick, it looks quite massive -even for a diver- although, featuring integrated lugs and thus having its length limited to less than 51 millimeters, it still doesn't take too much space on a normal wrist.
From the point of view of ergonomics, it seems quite convincing: the winding/setting crown is massive enough to be easily operated even by short, stubby fingers although some may find that the long chronograph push-pieces feature too much travel for their taste. To yours truly the pushers also look sort of generic, but that's my personal preference.
The case sports a very fine machine-brushed finish that not only makes the watch look even more elegant in that sporty, masculine way that the whole collection is known for, but also plays quite nicely with exterior finish of the mechanism, as well as of the internal bezel flange that seems to be first brushed, then anodized and color-matched to the dial and the unidirectional rotating bezel with its traditional diving scale.
Alas, even despite the outrageously high price that this new Eterna Super Kontiki Chronograph commands, the bezel doesn't feature either sapphire nor even ceramic inlay, which is certainly a pity now when the finish is often offered even for sub-$1k timekeepers. Otherwise, the watch looks quite impressive and even classy.
Unlike many divers that often feature solid casebacks with nothing more than fancy engraving, this particular specimen comes with a sapphire crystal in its case back cover which is, too, nice: it is always a pleasure to take an occasional look at the piece of fine machinery that makes a gadget tick.
If you don't care for the black rubber strap that comes with the watch by default (ref. 7770.41.49.1382, pictured,) you can always opt in for a lot more interesting stainless steel mesh bracelet that, by the way, comes with a standard folding clasp (this version of the watch has a reference number of 7770.41.49.1718.) The bracelets are well executed, look good and I've never heard people complaining about their quality: Eterna seems to outsource it to the same manufacturer who supplies the well-known 'Milanese' bracelets to Omega and, apart for different logos on folding clasps and marginally better finish on those with the familiar Omega stamp, they appear to be virtually identical.
Dial
As you can see on the photos, the watch still sports the same easily recognizable dial that fans of the Kontiki and Super Kontiki series seem to love so much.
Since this watch is styled as a hard-core diving companion (although, with its water resistance rating of just 200 meters, it definitely isn't a true diver after all,) it is nice to note that it also offers one of the most readable dials in the niche.
The face of the timepiece may be not as clean as those offered by some other brands, but, first, it is an interesting attempt to combine Kontiki series original design language with vintage styling and, secondly, it is still easy to read not only in broad daylight and in total darkness, but also in muddy waters (not the bluesman) if you are brave enough to get this almost $5k model for a brief and relaxed snorkeling exercise.
The effect was achieved thanks to the extra-narrow chapter ring, which is printed on the internal bezel flange using short, hair-thin strokes, as well as a combined chronograph sub-dial that features co-axially mounted minutes and hours display that seems to be growing even more popular among watchmakers year after year. As always, the combined display not only looks cool but also allows you to read the chronograph at a single quick glance, which is great if you plan to use the function on a regular basis (although I can't imagine why would you do that.)
On a personal note, I think I would have lived without the Rolex-style inscriptions on the upper and lower halves of the dial, and it would be really nice if the numerals on the calendar wheel were just a tad larger while the white rims on the sub-dials were a tad narrower, but otherwise the dial seems to be close to impeccable within the constraints of the "vintage-look" styling chosen by the Super Kontiki Chronograph's design team.
Mechanism
Even in this price range, a great number of chronographs are powered by ETA blank calibers with third-party add-on modules riding atop of them. Not with this piece!
According to official specs, the watch is animated by a self-winding Caliber Eterna 3916A: an in-house caliber that was developed by Eterna in order to achieve relative self-sufficiency when it comes to making their pieces tick and, probably, to establish a secondary source of steady income.
It's interesting how the Swiss-based watchmaker applied strategic thinking while developing the movement: while most brands usually first make a base caliber and only later start to scratch their heads when time finally comes to make complication modules for them, Eterna designed the modular movement from ground up in order to make as many versions of it as possible starting from simple three-handers and going to chronographs, big dates, second time-zone watches and the likes: all in all, the mechanism can be ordered (again, Eterna sells them to third-party manufacturers although I can't say how many smaller brands prefer to buy their engines from this relatively new player) in 88 variations, all of them quite good at keeping time and also offering guaranteed power reserve of 65-68 hours. Impressive, isn't it?
What's also remarkable about the whole Caliber 39xx family is that all of these engines are assembled using deliberately rugged parts. While I can't say that they dwarf those of more widespread mechanisms from ETA, Sellita, and others, it looks like Eterna didn't cut corners on these trying to save a penny or two on metal.
As massive as it is, the movement is built to last and probably (yours truly didn't have a chance to actually do an instrumented test of it) offers lots of structural rigidity that may even be excessive for a mechanism designed to work in a normal wristwatch. It surprisingly is also quite simple in its design, so, even if your local service person has never had a prior first-hand experience with the piece, he or she will probably have absolutely no trouble at doing at least routine maintenance and all the necessary adjustments if need be.
According to Mr. Aaron Berlow of Hodinkee.com, the movement features a couple of parts that Eterna buys directly from ETA [source] and some more that seem to be, um, cloned from similar mechanisms made by the same ETA, but otherwise the mechanism seems to be totally in-house. I am also fairly sure that somewhere along the road the ETA-sourced parts will be replaced with their own as soon as they start to sell to third parties (and, of course, install in their own watches) enough blank calibers to make building them economically feasible. And also, hey, Eterna is the original founder of ETA so, technically, even the outsourced parts have at least fragments of Eterna's own DNA!
As far as finish is concerned, the brand is quite laconic at it offering anything fancier than mildly open-worked oscillating weight with circular Geneva stripes and corporate logo, as well as the same stripes on the bridges, as well as a number of polished (some of them blued) screw heads. Rhodium plating makes the tiny engine look more expensive, but that's basically it.
Pricing & Availability
From where I stand, the price of this new watch is higher than it should have been: the MSRP of CHF 4600 (approx. $4700 USD) seems to be a bit too much for a watch of this kind. Also, it is about $1000 more expensive than the 2014 Longines Heritage Diver Chronograph. I don't try to demean the Sino-Swiss brand here, but you should take into account that sometimes their older models are sold by online stores at 1/4th or even 1/5th of the original MSRP, which means that you will have to make a serious discount of the price you've paid for this timekeeper in order to fund another watch for your collection.
Still, this is a beautiful timekeeper. If you are reading this review three or four years after it was published (probably in 2019 or 2020,) it means that World War Three didn't happen yet and the watch is probably available at some $1200, which means that you totally should go for it, but only at that price, give or take $100 USD.
WWR Verdict
Originality 4/5
Build Quality: 5/5
Usability: 4.5/5
Overall Legibility: 4/5
Nighttime Legibility: 4/5
Value for Money: 4/5
Overall Rating: 4/5
Photos: Eterna
Eterna Super Kontiki Chronograph (refs. 7770.41.49.1382 & 7770.41.49.1718) specification
Price: CHF 4600 / €4650 / $4700 (MSRP, version on rubber strap) / CHF 4800 / €4850 / $4900 (MSRP, version on stainless steel mesh bracelet)
Winding: Automatic
Movement: Caliber Eterna 3916A, in-house, 30 mm x 7.9 mm, maximum Variation between positions 20 seconds per day, Swiss Made
Number of jewels: 35
Movement frequency: 28,800
Power reserve: 65 hours
Movement decoration: Branded and mildly open-worked oscillating weight with circular Geneva stripes, blues screws, rhodium-plating
Functions: Hours, minutes, seconds, date, co-axial chronograph, proprietary fast time zone switch-over mechanism
Case: Stainless steel
Shape: Tonneau
Bezel shape: Round
Size: 45.00 mm (50.90 mm lug to lug)
Height: 16.05 mm
Dial: Matt black / Matt blue
Hour markers: Applied, luminous
Hands: Luminous
Water resistance: 200 meters
Strap: Black rubber strap with pin buckle in steel (ref. 7770.41.49.1382) / Stainless steel mesh bracelet with folding clasp (ref. 7770.41.49.1718)
Crystal: Sapphire, antireflective coating
Back: Sapphire