---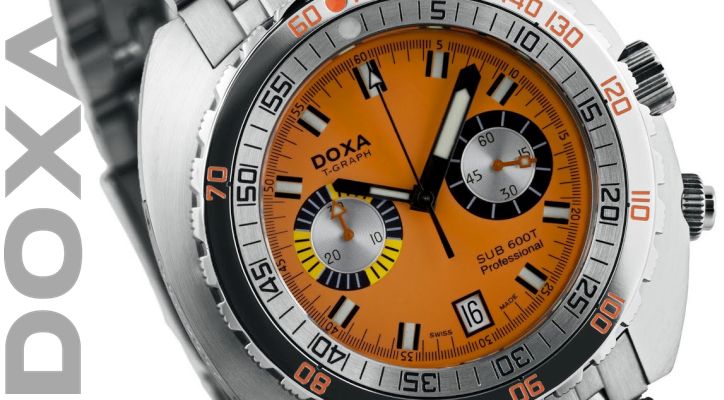 Swiss
Right after presenting its limited edition SUB 5000T Seaconqueror model, the Swiss watchmaker reveals its new DOXA SUB 600T-Graph series of diving watches. Looking mean and cool, the gadget is rated for 600 m of water resistance and is legible enough to give you all necessary information at a single glance.
Set to commemorate the 40th anniversary of the original DOXA SUB, the SUB 600T-Graph features DOXA's patented no-decompression bezel and a modified high grade ETA 2894 self-winding chronograph movement. The chronograph features only one 30-minute sub-dial, which is not really logical, since its famous no-decompression features a 60-minute scale.
The no-decompression bezel works as a simple (and very limited) diving computer. In two words, it provides you a rudimentary "no-decompression limit" table, which is squeezed into the bezel of your chronograph. There is a "dive depth" scale on the outer bezel of the device (it is printed in orange and marked in feet) and there is a "dive time" scale on the inner ring that measures dive time in minutes.
For each depth there is a corresponding value in minutes that tells you how much time you can spend there with your harpoon rifle or a photo camera and safely ascend without the inevitable decompression stops.
The bezel is unidirectionally rotatable, so, to use it, you should simply adjust the descent marker (two dots colored in orange and green) with the minute hand and here you go!
The SUB 600T-Graph's satin brushed solid stainless steel case comes equipped with new pusher system with special gaskets.
First developed by Jenny Watches, a small Swiss-based manufacture that was established around fifty years ago and earned its name making the "world's first" diving watch equipped with their patented Triple Safe system and rated for 1000 meters of water resistance, the system allows you to operate the chronograph function of the good old ETA 2894 caliber while keeping the SUB 600T-Graph safe and secure at depths up to 600 meters (1968ft).
Being a semi-professional tool watch, the new SUB 600T-Graph is presented in an oversized case 44.50 millimeters wide.
While the size of this thing is not terrifying per se, it is the vintage shape of the case that makes it look HUGE. Whether the accessory is suitable to be worn with casual dress is purely a matter of one's personal tastes (Update from 2014: Looking at it now, I must admit that I really like this stainless steel monster although buying one would definitely mean such extra expenses as getting a Hemingway-style sweater), but the fact that the watch looks extremely original seems to be indisputable to me.
Considering its weird proportions and functional, but not exceptionally elegant design of the dial, wearing this watch to the office is like going shopping in the IAV Stryker armored vehicle: it can do the job, but you must be prepared to meet a lot of surprised looks.
WWR Verdict
Originality 5/5
Build Quality: 5/5
Versatility: 3.5/5
Usability: 4.5/5
Overall Legibility: 4.5/5
Nighttime Legibility: 4.5/5
Value for Money: 4.5/5
Overall Rating: 4.5/5
Photos: DOXA
DOXA SUB 600T-Graph Automatic specification
Price range: $3790 (factory price)
Movement: Automatic, Caliber ETA 2894, Swiss Made
Jewels: 25
Frequency: 28,800 vph
Functions: Hours, minutes, small seconds, chronograph, date
Power reserve: 38 hours
Case material: Stainless steel
Case diameter: 44.50 mm excluding crown
Case height: 18.55 mm
Dial: Black, Orange
Water resistance: 600 meters
Crystal: Anti-reflective, scratch resistant, sapphire crystal
Case back: Solid, engraved